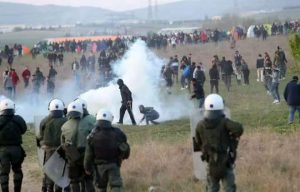 Post from 5.4.2019: Right now, there is mobilizations to the northern greek – macedonian (some media also talk about greek-albanian) border. Thousands of people make their way to cross the border. thousends of cops try to hinder them and attacked the caravan yesterday with teargas and arresting some people.
Lots of people gather in a wild camp in Diavata, near Thessaloniki which
is growing hour by hour.
There is already videos and pictures of police violence spreading in
social media, but also photos of women* and children handing flowers to
cops.
One of the reasons for the protest is, that the greek state is going to
evict people out of the official accomondations, who have been staying
there more than 6 months. Also there is going to be massive shortenings
in the money the people receive for living.
some impressions you find here:
<a href="https://twitter.com/hashtag/Diavata?src=hashhttps://apnews.com/7f44a3007c8340608e8872030ffc0b90″>https://twitter.com/hashtag/Diavata?src=hashhttps://apnews.com/7f44a3007c8340608e8872030ffc0b90</a>
<a href="https://www.facebook.com/Border-Crossing-in-greece%D8%B4%DA%A9%D8%A7%D9%86%D8%AF%D9%86%DB%8C-%D8%B3%D9%86%D9%88%D9%88%D8%B1%DB%95%DA%A9%D8%A7%D9%86-%D9%84%DB%95-%DB%8C%DB%86%D9%86%D8%A7%D9%86-338967916742589/">https://www.facebook.com/Border-Crossing-in-greece%D8%B4%DA%A9%D8%A7%D9%86%D8%AF%D9%86%DB%8C-%D8%B3%D9%86%D9%88%D9%88%D8%B1%DB%95%DA%A9%D8%A7%D9%86-%D9%84%DB%95-%DB%8C%DB%86%D9%86%D8%A7%D9%86-338967916742589/</a>
<a href="https://thepublicsradio.org/article/migrants-planning-border-push-clash-with-police-in-greece"> https://thepublicsradio.org/article/migrants-planning-border-push-clash-with-police-in-greece</a>
<a href="https://www.theepochtimes.com/illegal-immigrants-gather-near-greeces-border-seeking-to-cross_2866878.html">https://www.theepochtimes.com/illegal-immigrants-gather-near-greeces-border-seeking-to-cross_2866878.html</a>
Καζάνι που βράζει η Χώρα μας, Διαβατά σήμερα!
Δείτε πόσοι είναι εκεί και φανταστείτε πόσοι είναι σε όλη τη Ελλάδα!????????????????

#Τσιπρα #ΣΥΡΙΖΑ #syriza_xeftiles pic.twitter.com/uWehRjcMo1

— George Lee (@Harhalas) April 4, 2019