We document a call of comrades from Sofia: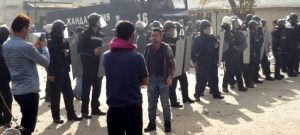 FREE THE HARMANLI 21!
On 24th of April, 2018 was the first hearing against 21 arrested
migrants accused of participation in a violent riot in the so-called
"open camp" of Harmanli, in 2016. The riot broke out when the camp was
put under unlawful quarantine after pressure from the far right's
anti-immigrant propaganda. 21 Afghani people were sent to court
despite clear evidence of police brutality and of random mass beatings
after the riot. No police was investigated.
The next hearing will be on the 5th of June, 2018 at the Regional
court in Harmanli.
·We are planning a week of local actions in solidarity with the
Harmanli 21 until the new date of the trial.
·We call for solidarity actions in front of each Bulgarian embassy or
consulate, demanding the immediate еnding of the trial, release of the
21 migrants and investigation of the police brutality against the
people in the camp.
The 21 migrants continue to be held in the detention centre of
Lyubimets, facing the threat of deportation back to Afghanistan or of
prison sentence in Bulgaria. The whole trial is totally absent in most
of the media and society in general. We believe that only pressure
from inside and outside can help put this trial out in the public eye,
especially in these last 2 months of Bulgarian presidency of the EU
council.
·The week of actions is from Monday, 28th of May to Tuesday, 5th of
June, 2018.
Apart from that you can help by starting campaigns in your countries
and cities in order to inform your local society about the Harmanly 21
case.
Only united we can resist the brutality of the Bulgarian state and of
"Fortress Europe"!
SOLIDARITY, JUSTICE AND FREEDOM FOR THE HARMANLI 21!
Antifa Sofia and comrades
More information:
1) After the Rebellion of the Voiceless, the Trial comes – FREDOM FOR
THE HARMANLI 21
After the Rebellion of the Voiceless, the Trial comes – FREDOM FOR THE HARMANLI 21
2) Report of the the first day from the trial against the Harmanli 21
–
http://bulgaria.bordermonitoring.eu/2018/04/26/the-start-of-the-trial-against-the-harmanli-21/ Show
original message