We document the statement of the FreeTheRöszke11 Campaign:
On March, 14th the court of Szeged confirmed Ahmed to be a "terrorist"
and sentenced him to seven years of prison – three years less than in
the first verdict.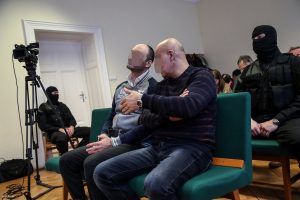 We didn't expect a fair trial and unfortunately the verdict proved it.
It was a ridiculous theater: After the final speeches of prosecutor and
defense at the same day the verdict followed. The court did not even try
to avoid the impression of a directed show: the verdict obviously was
rendered and written long before: No need to keep up the appearance of a
formal correct procedure. The judge perfectly assisted Orbán and his
gang. Just a few weeks before the Hungarian elections and in the eve of
Hungary's National Day this verdict fit perfectly in the government's
election campaign. One day later tens of thousands applauded to Orbán's
speech in front of the National Parliament, listening to his fairy tales
about Soros and the 1 Million African Migrants.
The prosecutor according to his own words "focused just on the act of
terrorism": Ahmed's only aim had been to violate the border. All his
actions and movements and thoughts were based only on one aim: violating
the border.
The defense required to leave aside any political impact and to decide
strictly juridical. Instead he asked the court to take into account
Ahmed's aim to accompany his parents and his brother's family and also
the highly emotional situation at the border. "No matter what he may
did, there is no proof of any aggressive words directed to the Hungarian
police".
Barandy's strategy of leaving out the political meaning of the trial
obviously didn't work out:
Ahmed was found guilty in "complicity in an act of terror" and "illegal
entry as part of a mass riot" and was sentenced to seven years'
imprisonment and expulsion from Hungary for 10 years.
Seven years of sentence minus the prior detention mean two more years in
prison. Both sides appealed the judgement – The show must go on.
#Rage and Anger!
Freedom for Ahmed!