– based on a statement by the "Free the Roeszke 11" solidarity network –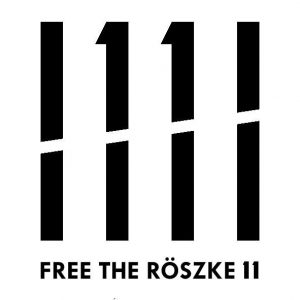 On the 8th, 10th and 12th of January 2018 the next round of hearings in the Hungarian states' trial against Ahmed H. took place. His case is now back at he first court level. The second instance referred it back due to problems with evidences and translation issues.
There was no new material being used, instead the same police testimonies, police video footages (and randomly cut video material from Russia Today) and police witnesses were taken into consideration. As in the first round of the trial the judge seemed to take over the role of the prosecutor, even though the first judge was considered to be even more unfair and politically motivated than the current judge.
We still consider this as a political show trial, which by nature cannot be a fair trial.
The conditions of Ahmed H.s imprisonment remain unacceptable: being completely isolated for more than two years after he was arrested, not receiving proper food, having to fight for an isolated 1 hour walk to the yard and the mistreatment  by the wards are just some of many points to be criticized.
In addition to that the general situation of refugees and migrants in Hungary remains horrible: if people are caught they are immediately put into "transit" camps in the border area (container jails), inhuman treatment and physical violence is not unusual, asylum applications are almost always rejected with the consequence of deportation back to Serbia.
Generally it can be said that it is not a question whether the conditions of the trial are more fair now than before. This trial is a politically motivated show trial "proving" the narrative of "terrorist/refugees invading Hungary", wherein the Hungarian authorities frame themselves as the defenders of democratic "Europe". The European Union is benefiting tremendously from the role Hungary is performing here since the EU doesn't have to exceed such a persecution itself. Furthermore, the institution
s and companies who profit from such an inhuman system is rarely discussed.
We stand with the demand of the "Free the Roeszke 11" solidarity network:
We don't want a fair trial for Ahmed H. – we want his immediate release!
Migration and protesting is not a crime!
— The next trial is announced for 14th and 19th of March 2018, where the first instance verdict is expected. —
p.s.: Let's not forget the Hungarian elections in April!
— further reference: Al Jazeera article about the trial